Our Difference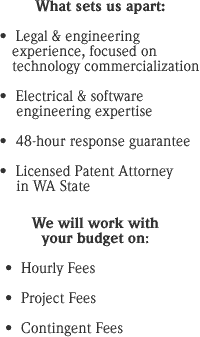 Trusted Expertise
The Law Offices of Toussaint L. Myricks, PLLC, provides its clients with reliable and affordable legal services that focus primarily on the protection and commercialization of intellectual property.

Our firm is committed to guarding innovation for inventors, entrepreneurs and small to medium-sized business owners. The ultimate goal is to help you capture maximum value at reasonable costs, while maintaining your intellectual property.

Because we are client-oriented, you will receive personalized and satisfaction-intensive legal services that work with your needs. Call today and receive the first hour free!



Practice Areas
Intellectual Property Procurement
Intellectual Property Transactions
Drafting
Negotiation
Entity Structuring
Strategic Portfolio Analyses
Intellectual Property Audits
Patent Portfolio Landscaping Analyses
Strategic Risk Assessments
Strategic Opportunity Assessments
Specializing in SBIR / STTR Projects
Opinions of Counsel
Patentability Opinions
Patent Invalidity Opinions
Patent Infringement Opinions
Freedom-to-Operate Opinions